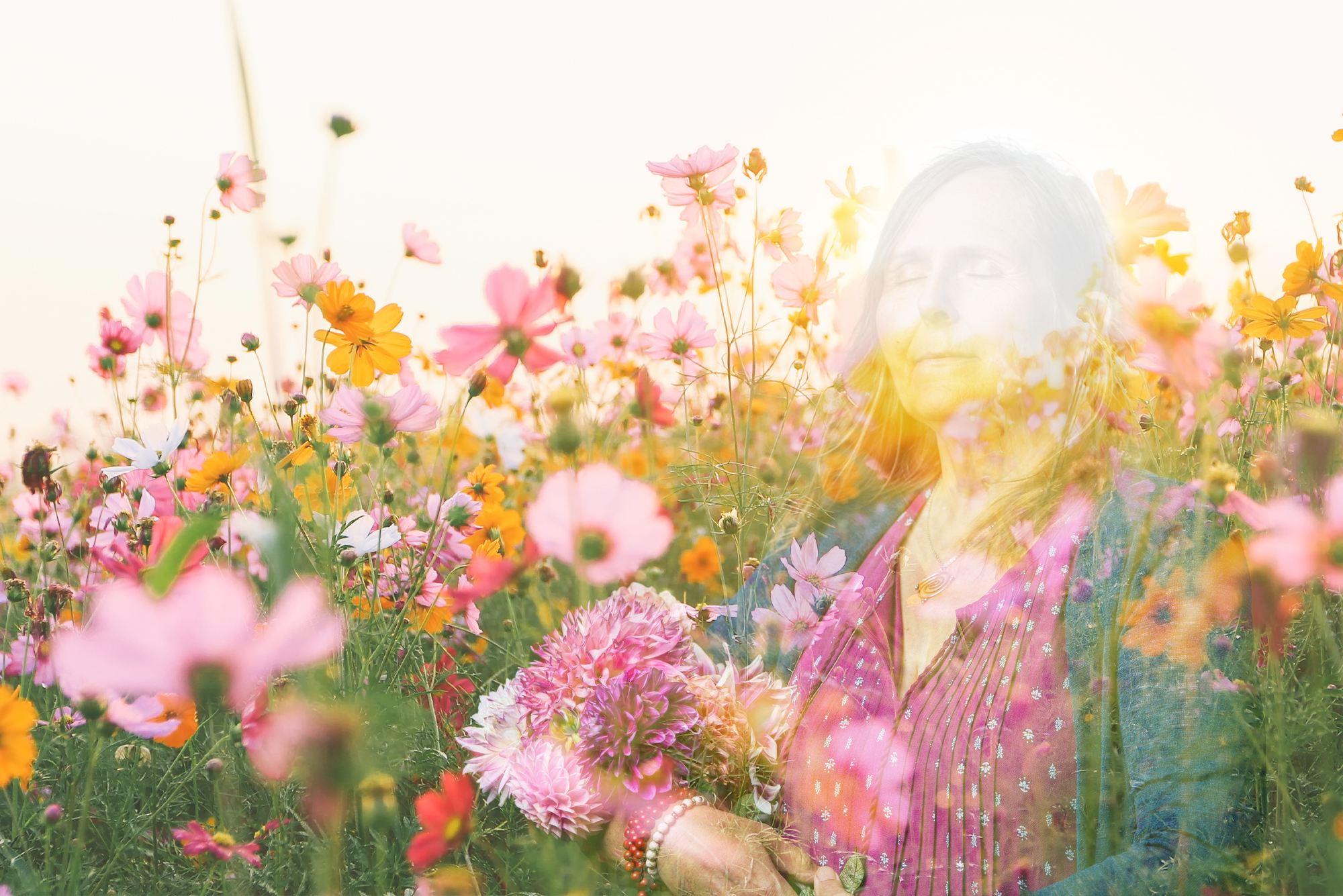 Book a Golden Hour Call With Me
Award-Winning Artist - Organic Master Gardener - Floral Artist - Flower Farmer - Designer - Intuitive - Writer - Publisher - Reiki Master - Teacher - Oracle Deck Creator
I have experience in many different fields from being a professional graphic designer and art director working in print media and marketing to an award-winning artist, writer, photographer, self-published author, and Organic Master Gardener, flower farmer, floral artist, oracle deck creator and intuitive.
I am a designer of websites, books, magazines, oracle decks and a publisher. I'm a branding expert, maker of social media content, course creator, copywriter and more.
I was a professor for many years teaching studio art, new media and design. I was also an artist-in-residence in public schools, colleges and universities. I've taught workshops in environmental art internationally and flower farming and floral design here at Alchemy Farm.
I truly love sharing what I know and I love helping people to succeed.
I am offering a limited number of one-hour-long calls where you choose the topic you need help with. I will meet you with an open heart and a toolbox filled with years of experience. You'll get informed and concise information and gentle guidance.
I love sharing what I know and helping people succeed
Once you book your call below, you'll receive confirmation of our meeting along with the Zoom link. You'll get a recording of our time together.
Book Your Golden Hour Call With Me
Limited Availability
Golden Hour Call
We'll explore the topic of your choice and I'll share my experience and together we'll guide you towards clarity.
Book Now
★★★★★

My time with Ingrid was so wonderful! She has a wealth of information and her flowers are absolutely beautiful. I'm so happy to have met her and look forward to coming back to do another workshop with her.

Tara
★★★★★

This workshop offered so much...there was a phenomenal garden tour, the freedom to wander and harvest our own flowers to work with in her barn studio space. I look forward to attending more workshops!

Caroline

Los Angeles, CA
★★★★★

I learned so much about flower and how to care for them. I'm forever grateful for your sharing your knowledge and beautiful farm and flowers with us. 

Heather

Thank Your, Your Support Helps Fund
Kiva Loans to Women
Your support of Alchemy Farm helps us fund KIVA loans to women in developing countries + helps grow flowers for bees and pollinators!