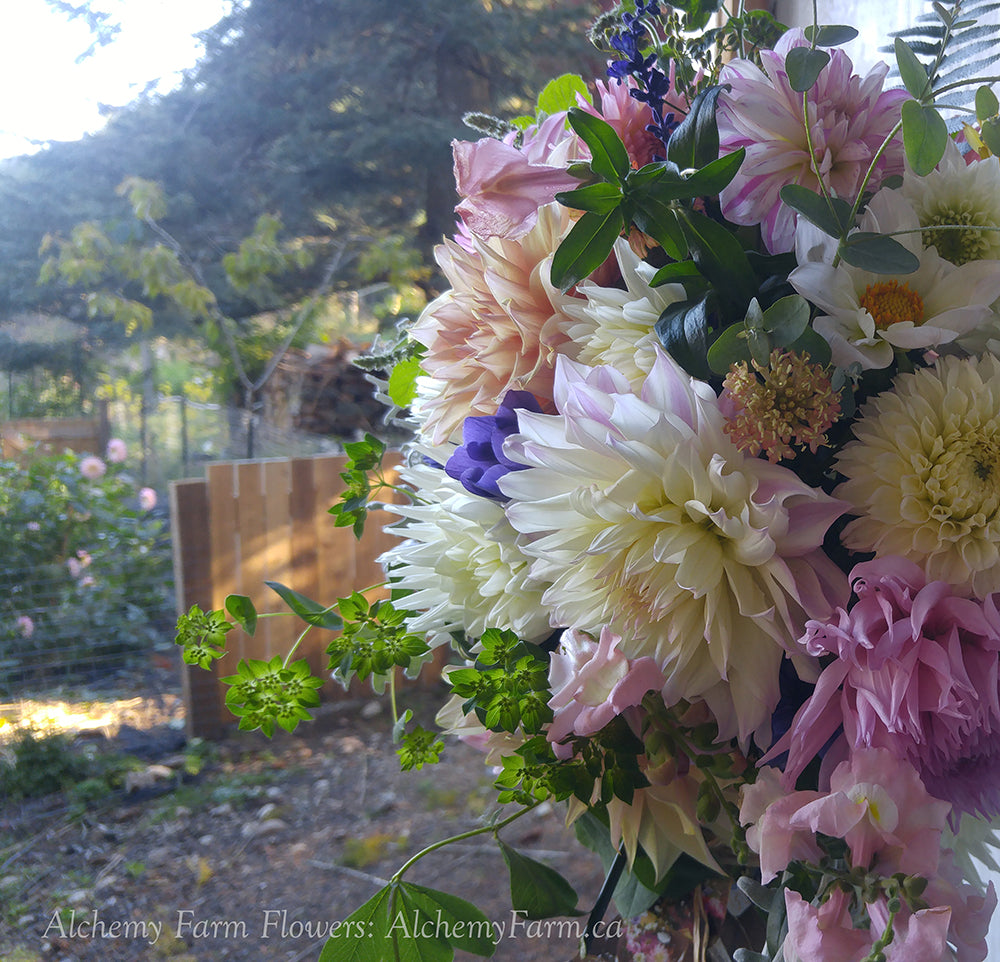 The Alchemy Farm Dahlia Shop
Opens Friday, March 17 at 10 am PST
Alchemy Farm Dahlia Shop - Opens at 10 am, Friday, March 17!
Welcome! We're excited to share some of our favourite dahlias with you!
Supplies are limited. We only ship in Canada.
We grow over 200 different kinds of dahlias and each year we share a few varieties with our dahlia friends. This year we are excited to introduce some of our very own Alchemy Farm dahlias that were started from our own seeds three years ago. 

Our tubers are grown at our farm with no pesticides or yucky stuff. We love our dahlias and are fanatical about their care and well being. They provide homes for bees and pollinators as well as fill our, and our customers, lives with beauty.

We occasionally offer tubers we have from new stock varieties we've brought in for the year—these will be clearly marked as not farm grown on listings. We take great care in checking these tubers before we plant them in our own gardens or offering them to you. Many of these tubers are new to Canada. 

Our tubers are shipped in individual bags filled with pine chips and/or vermiculite as well as sprinkles of cinnamon to discourage mold—your dahlias smell amazing when they arrive! Each bag is clearly labeled with the variety and each tuber is marked with its name. 

Tubers ship in early spring. If you live on the west coast then we can ship as early as late March, for other regions in Canada we wait until all danger of frost has passed—usually sometime in April. 

We include a printed sheet with directions on how to care for your tubers when you receive them as well as how to plant them and tend them (this is great if the tubers are a gift!).

We only ship in Canada. 

 
Click to join the Dahlia Wait List  to receive an email reminder of the shop opening + dahlia offers and news.